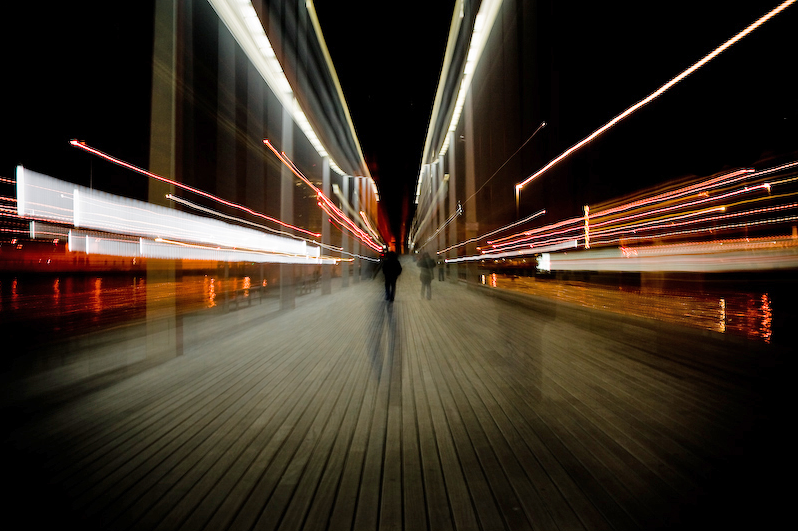 STALKR expanded its offices to Barcelona almost five years ago, broadening our European reach and bringing along many skilled creatives and producers along the way.
Such is the case with Oliver Merchant who runs our operation in Spain, managing each project that comes through STALKR's doors – from maximizing time frames (and sometimes difficult time zone issues) to delivering impeccable creative.
We talked to Oliver about STALKR's Spanish operation, the perks of Mediterranean living, and some recent and upcoming work courtesy of Barcelona.
When did you form the Barcelona office?
I moved back to Barcelona at the start of 2011. I was born and raised here. I'd been away for over 10 years, lived in Paris first and then London. I was ready to move back and the fact that our job allows us a certain flexibility also helped enormously. The idea of taking it step further and actually setting up a Barcelona office (as opposed to having a team where everyone works remotely) came a few months after being here. I was ready to set up camp and be in a shared working environment. I finally set it up in February 2012 and now there are five of us here that make up the core EU team in addition to our UK team.
How does your setting affect the work you guys are doing?
In lots of ways. Being in a Mediterranean city, the pace of life is different. People are generally more relaxed and this can be hard at times, working in quite a high-paced work environment where most things are needed yesterday. It's not always easy to mix work cultures, but I have a brilliant and very hard-working team so it all works out.
We share an office space with small creative design company. They are friends and have become very much an integral part of our day to day. Their pace and outlook on life helps balance things out.
I always thought the language would be more of barrier, but in fact it isn't at all. All our team members in Barcelona obviously speak Spanish, as well as English. We have two English people, one Spanish person, an Argentinean and a weird mix — myself! We mix and swap between the languages but obviously English is the official language we work in and that is what we use with the rest of the company.
Take us through two of the projects that the Barcelona office has done recently. How did they come to you? What was the creative brief and how did STALKR adeptly take it through from start to finish?
We did a big campaign for Nature Valley 'Crunchy' last year where we were given a lot of freedom to explore creative ideas. The campaign was quite conceptual and it was entirely based on User Generated Content that we sourced. Having the freedom to explore not just look for images but explore ideas in imagery is what is most rewarding.
Our US producers bid the job in the US, and won it, but we ran it out of Barcelona. The client was US based, east coast, so the time difference wasn't too much of an issue. It ran for a few weeks. Every 2 or 3 days we would get together to brainstorm, new ideas would come up and we would explore new directions. Our team over here earned a reputation for being the UGC guys off the back of that job. They excelled and the spots that came from that were great.
Right now we are currently working on an exciting campaign for a major sports brand with a football (soccer) player. The job came from the US, west coast this time. But because of we have some big football fans here (including myself) there was never any question that this should not be run out of here! The athlete in question is a major idol here in Spain and more specifically Barcelona, as well. Being here, in the heart of things is helping enormously.  And the fact that we are here means that we can work with Spanish-speaking sports broadcasters, federations and filmmakers as well, not just in Spain —  but all of Latin America. So this is great. Looks like we are in the midst of building a reputation as the football team as well!
What are the unique challenges and benefits that you find of working in Spain (or Barcelona specifically)?
Because we continue to work with the US a lot, the time difference can also be tough, but we try to make a point of finishing at a reasonable time, although that's not always possible. Barcelona is an increasingly international and cosmopolitan city, but is physically quite small. So to me, being able to work in a Mediterranean city and everything that comes with that while still being able to tap into an international community, whether that's people on our team or filmmakers is a bit like having the best of both worlds. Because of this and because we are also filmmakers, when I came back, it also came as a bit of a surprise how easy it is to shoot here — everything from talent, locations and weather to cost of production.